Bike as bare as you dare through Bellingham 
06-06-2020
Join cyclists in over 70 cities in 20 countries around the world by biking naked in 2020.  Fight our indecent exposure to fossil fuels.  Highlight bicyclist vulnerability, and alter our shared body narrative.
2020 Ride Cancelled for Covid Until Further Notice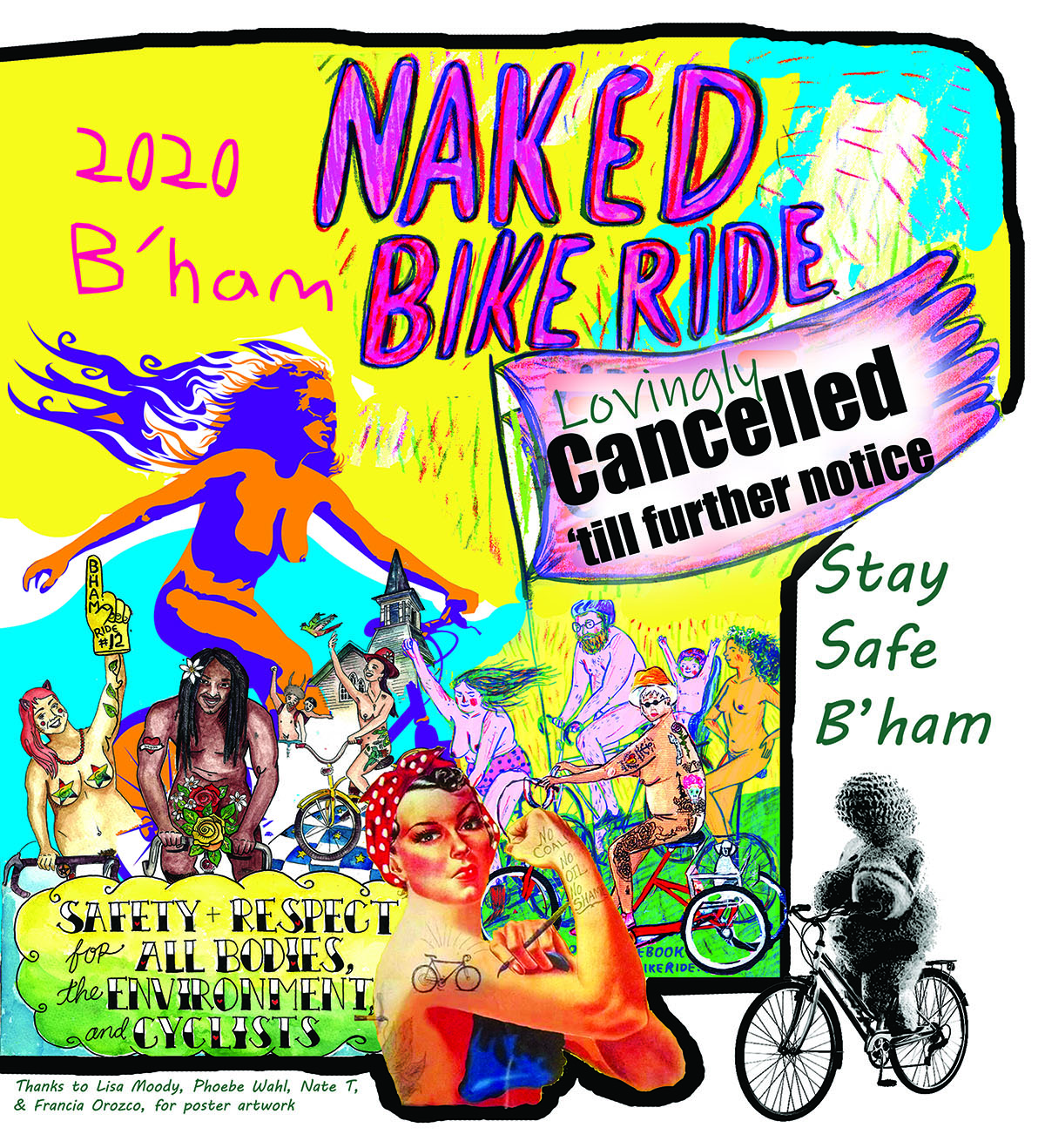 Note from an organizer:
Internalized ageism is not something I hear talked about very often, but something I encounter regularly when inviting people to ride. The role age plays becomes crystal clear when practically everyone 45 and up respond that, "no one would want to see that" (referring to their own bodies). Because we would love to live in a world where we recognize the awesomeness that comes with age, our Body Positive Block Party and Naked Bike Ride were set to focus on honoring the more wizened section of our society. In light of covid, canceling the ride this year means we get to join a global movement to protect and honor this beautiful sector, as well as other awesome people who live in more vulnerable bodies.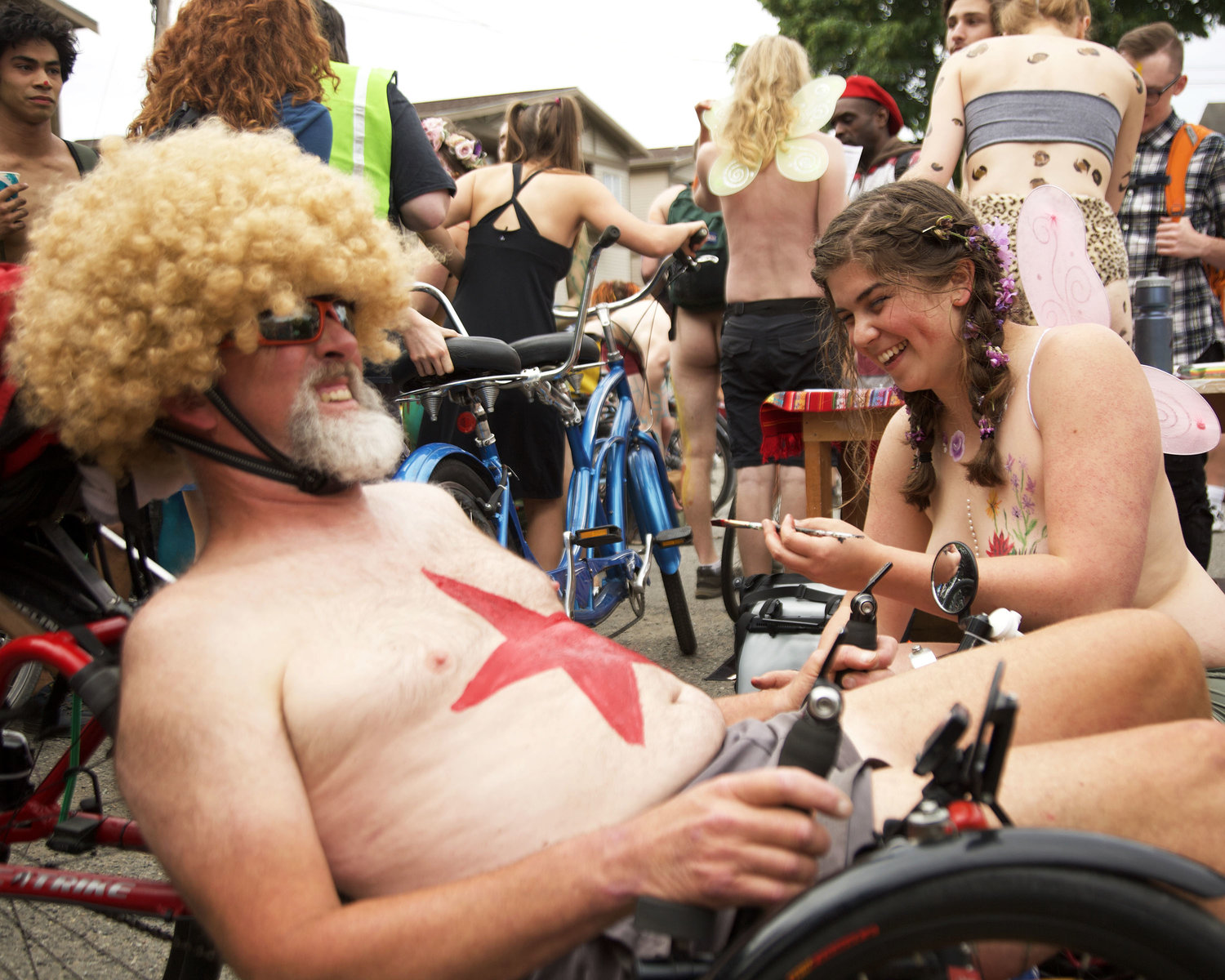 Learn More about
BodPos 2020

Body Positive Block Party!
Live Music:
Hot Wax, Smooth Kiwi, Jasmine Stuverud, Onion the Man, Family Mystic 
Speeches & Workshops
Saturday, June 6th 
2pm - 9pm ( 5pm Ride) 
Block of  306 Flora
In celebrating the cyclist, ecology, and the human body 
we aim to:
Promote a bike-friendly culture by highlighting cyclist vulnerability
Protest "indecent exposure" to fossil fuels. The body is not lude, but killing the Earth is.
Unpack the cultural narrative about our bodies and learn to create our own.
Spark conversations within the community.
Reject the commodification of our planet and our bodies.
Respect the sovereignty of people over their own bodies.
Challenge the the media's grip on our self esteem.
Foster radical self-love and empowerment in all participants.
Learn more about our work and other events at BodyRights.info
Or find Bellingham Naked Bike Ride, and 
Bellingham Body Rights on Facebook
​
Frequently asked questions
Absolutely not! We want you to be comfortable and that means you choosing your level of dress, not your friends, not your mother, not the TV, but you. How much you wear, or don't wear, is completely up to YOU!
Is this a family friendly event?
Absolutely! The media spreads its narrative about the body to people of all ages and circumstances. It is never to early, or late, to create and offer a counter-story with which to orient ourselves.
RCW 9A.88.010 states that "A person is guilty of indecent exposure if he or she intentionally makes any open and obscene exposure of his or her person or the person of another knowing that such conduct is likely to cause reasonable affront or alarm. The act of breastfeeding or expressing breast milk is not indecent exposure." (1) Because the nudity in our event is not of a sexual nature, the exposure of our "person" is not "obscene". (2) We advertise our event profusely in order to forewarn the public in advance so people can avoid being "affront(ed) and alarm(ed)" by our state. (3) While nudity is not protected under freedom of speech, we consider the option to wear clothes as a useful tool in encouraging a perspective shift regarding our bodies. We work closely with the city, police, and TONS of volunteers, to make this event safe, respectful, and incident free.
We encourage you to bring water, paints, sunscreen, a snack, a satchel for your clothes, a bicycle, and some $ for donation and our awesome merch
What is the policy on photography?
People at this event are putting themselves in a vulnerable space. We work to have this vulnerable space be, and feel, as safe and caring as possible. To and observer, the act of flashing photos of the ride may feel like the innocent documentation of a novel event. However, to an unclothed cyclist, it's likely to feel invasive, and even akin to the media's conquest to separate human bodies from their spirits and contexts, so they can be objectified, sexualized, monetized, and judged.
While photography is not something we can limit in the public sphere, we ask that onlookers, instead, connect with the participants as people, without a lasting lens.
We ask that people not bring cameras to our Body Positive Block Party, from which the ride departs and returns. We will have our own vetted portraiture photographers and documentarians who are keen on asking consent.
Can I engage if biking is not an option for me?
Some people simply don't have bikes, and may rent one, borrow one, or take the opportunity to purchase a new one. They may show up in roller blades, on a skate board, or in a wheelbarrow (it's happened more than once). Some people haven't learned to bike, and they challenge themselves to master the task in advance (sometimes the morning-of). Some people are concerned about how riding naked would feel, or don't want their friends to see them participate. This is okay.
Many of us, however, are unable to bike. This, too, is completely okay! Our event has grown to the point where biking is just a small aspect of a larger, more comprehensive, more amazing event, geared at understanding the cultural narrative around the body and creating one for ourselves (and our great great grandchildren). BodPos, the Body Positive Block Party (where the ride begins and returns) is a full day event of live music, art, workshops, speeches, yoga, and more. I am sure if you came, there would be something in the event that would speak specifically to you.
"But I'm too old. Nobody wants to see that."
This is the #1 reply I hear when handing out flyers. By some grace, however, we still have age-diversity in participation. If you feel like this response would be uttered out of your lips, please consider coming and joining us. You will be making the difference that is needed and making the event worthwhile for all of us. Seriously, contact us if you need any reassurance.
Subscribe for updates and more events 
 Saturday, 06-06-2020 We Ride